The Abraham Companies acquired the property last year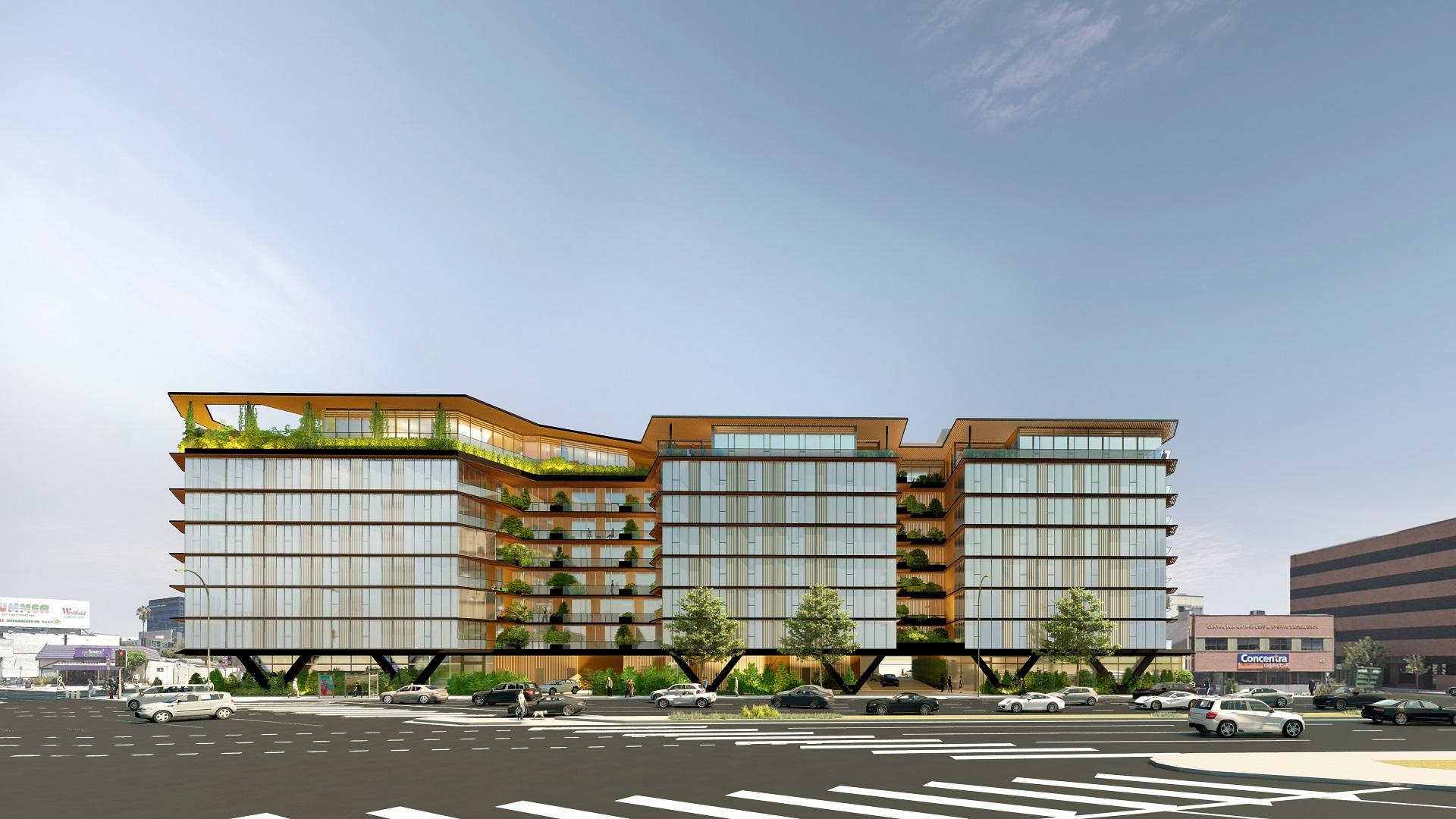 400 S San Vicente Boulevard, visualization as shown on Urbanize LA
One year after acquiring a 1980s retail complex just south of the Beverly Center with an eye toward redevelopment, The Abraham Companies have revealed their plans for a prominent site in Beverly Grove.
The proposed project, which was submitted to the Planning Department for review this week, would rise from a .77-acre property located at 400 S. San Vicente Boulevard. Plans call for the construction of a new eight-story building which would featuring 126 apartments atop 11,840 square feet of ground-floor retail and restaurant space. Plans also call for three levels of subterranean parking, as well as valet service and a large porte cochere.
The project is being submitted for entitlements using state density bonus incentives, which will permit a larger structure than zoning rules would otherwise allow. In exchange, 15 percent of the property's base density will be set aside for rent as deed-restricted affordable housing.
"We look forward to creating a much-needed mix of new housing and neighborhood-serving restaurant and retail spaces at one of LA's most iconic intersections," said J.J Abraham, president of TAC, in a statement.
Steinberg Hart is designing 400 San Vicente, which would be a Type I building blending concrete and steel-frame construction. The building is intended to match the scale of existing and planned developments along the San Vicente corridor, although it is lower in scale relative to nearby high-rise developments. Off-site improvements will include new landscaping and more than 30 street trees.
"Our team's vision for this project is to develop an architecturally significant design that combines an intimate residential living experience with convenient transit linkages and access to community public spaces that will cater to residents, visitors and the broader local community for years to come," said Abraham.
Construction of the complex is expected to occur over an approximately 26-month period, with the start of construction expected by early 2024.
Despite being taller than the existing shopping center, the proposed development's high profile falls well short of several upcoming additions to San Vicente Boulevard. Across the street's often confusing intersection with La Cienega Boulevard, developer and former Mayoral candidate Rick Caruso scored approvals in 2017 for the construction of a 16-story residential tower, while Our Lady of Mt. Lebanon Catholic Cathedral has proposed an even taller apartment building next door. More height is also coming to San Vicente's intersection with Wilshire Boulevard - not far from Metro's Wilshire/La Cienega Station - including a medical office building and a proposed 20-story high-rise. To the north, Cedars-Sinai has also received entitlements for an expansion of its hospital campus at San Vicente and Beverly Boulevard.
Original Article from Urbanize LA: https://la.urbanize.city/post/mixed-use-housing-development-replace-retail-center-400-s-san-vicente-boulevard?fbclid=IwAR0Ilr4a_DIZ_LdwdaIQS3I3Y93dSS4q-iLOk5D1NhUrYJa8JEA1Z40436M